updated 2023/8/2; SUBMISSION DEADLINE has been extended until AUGUST 11th
The first in-person event is coming!
Tokyo Gap-Financing Market CALL FOR PROJECTS
DEADLINE: AUGUST 4th AUGUST 11th


We are pleased to announce the Call for Projects for the fourth Tokyo Gap-Financing Market (TGFM), organized by TIFFCOM 2023 - Tokyo International Film Festival (TIFF) Content Market. As an affiliated event of the 36th Tokyo International Film Festival (TIFF), the 2023 Market is set to be held at the Tokyo Metropolitan Industrial Trade Center "Hamamatsucho-kan" from October 25th to 27th. Renowned as the foremost multi-content market in Asia, TGFM offers unparalleled opportunities for industry professionals.
Due to the spread of the coronavirus, the previous three TGFM events were conducted online. However, we are excited to announce that this year's Market will be held in person, marking a significant milestone. Our focus for this year's TGFM is on feature-length live action and animation projects. A total of 15 projects will be carefully selected from the submissions for participation.
What is the TGFM?

TGFM is a dynamic project market created to assist producers of projects in the development stage to secure funding. Through one-on-one meetings, representatives (producers and directors) of selected projects will be invited to Tokyo where they will have the opportunity to engage with a diverse array of international film industry experts such as sales agents, distributors, production companies, financiers, broadcasters, investors, and more.
Notable Features of TGFM

-Focus on Funding

TGFM places a strong emphasis on funding, requiring that participating projects have secured at least 60% of their total budget. This requirement ensures that the event attracts a multitude of robust projects with significant potential for successful completion. As a result, the one-on-one meetings conducted at TGFM can be highly focused and specific, centered around the funding goals of each project.
-Focus on Projects with Asian Elements

Leveraging the unique attributes of TIFFCOM, Asia's foremost multi-content market, TGFM focuses projects originating from Asian countries and regions or international projects that incorporate Asian elements.
Tokyo Gap-Financing Market(TIFFCOM 2023)
- Dates: October 25th - 27th, 2023
- Venue: Tokyo Metropolitan Industrial Trade Center "Hamamatsucho-kan"
- Project submissions will be accepted from June 30th -
August 4th
August 11th, 2023
- Call and Regulations:
download from here.
This Call for Projects welcomes submissions from Japanese, Asian, and international projects in the following category:
Feature Films (Fiction, Animation)
Submissions are open to fiction feature-length films and long feature animations with a running time exceeding 70 minutes, targeting theatrical and/or streaming distribution. It is mandatory for each project to have already secured 60% of its budget and provide documented proof of this financing. Furthermore, each project must prominently incorporate Asian elements. Please note that TV series projects will not be eligible for consideration this year.
Completed Projects Previously Accepted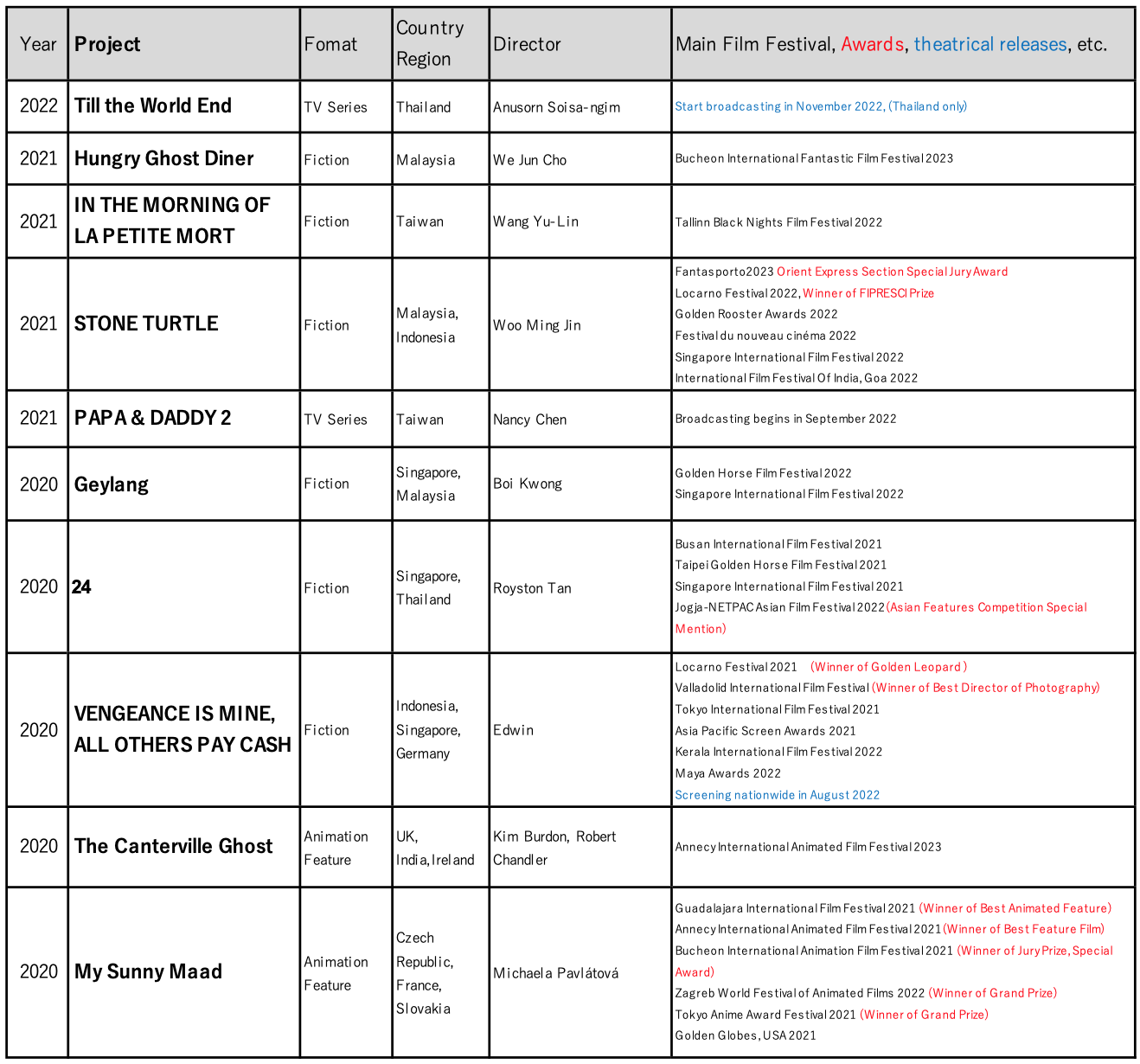 ---
Contact:
Tokyo Gap-Financing Market
E-mail: tgfm@unijapan.org